MAD//Fest is Sold Out: This is What You Need To Do if You've Got a Ticket
By MAD//Fest Editors 08 Nov 2019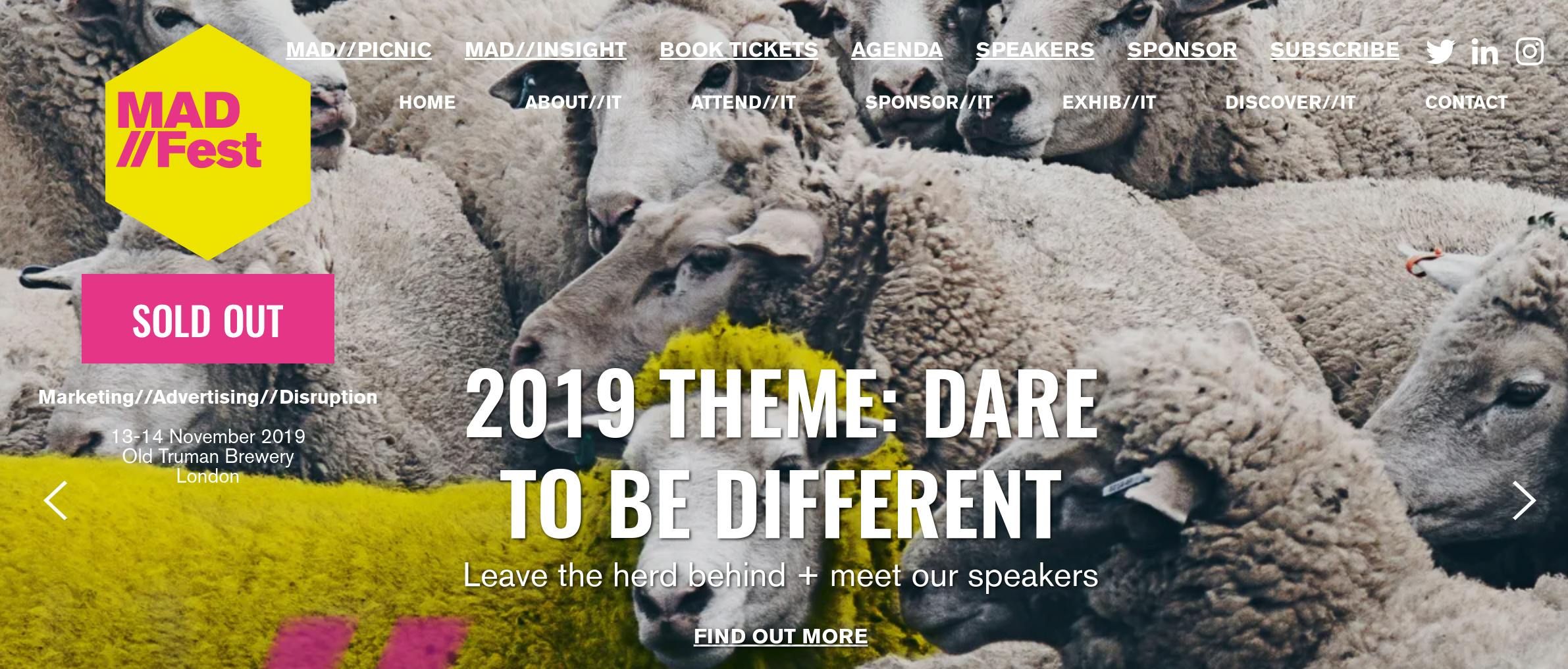 Ok, tickets for MAD//Fest didn't sell out quite as quickly as Glastonbury, but next week's expanded event is a full house for the second year running.
If you're lucky enough to have a ticket, this is what you need to do ahead of next week's innovation extravaganza (don't forget to bring a water bottle).
STEP 1: Download the MAD//Fest app here
This is your ticket for the event. Download it now to save messing around in the queue and taking longer to get in.
Remember to REGISTER (not sign in) for the app using the same email address you used to sign up for MAD//Fest London on Eventbrite.
Take it from us, if you're not recognised when registering the app, it's more than likely because you've tried to enter a different email address to the one you used to register on Eventbrite (our app is smart but it ain't that smart!)
STEP 2: Plan your day
With four stages, more than 130+ speakers and immersive experiences like our connected CornerShop and the MAD//Britkeller, a bierkeller created in partnership with Shepherd Neame, you'll not be able to take in everything at MAD//Fest so use your time wisely.
Check out our agenda online here and bookmark the sessions you want to attend in the app.
STEP 3 : Start making contacts now
We're the Best Networking Event in the UK, don't you know? It's official (we have the award on our fireplace to prove it).
4,500+ marketers flock to MAD//Fest not just to get their fix of amazing content but to meet amazing people. Get in there early by connecting with people on the app and scheduling in one-to-one meetings during MAD//Fest London.
STEP 4: Prepare to have fun
A bierkeller + a giant pub stocked with loads of on-the-house new beers from Shepherd Neame, AI-made gin + tonics, ethical calvados tasting, a load of wine we bought in Calais last weekend and the brilliant DJ Sophie Lloyd (Defected) playing at our evening shindig sponsored by Influencer on 13 Nov, what's not to love?
STEP 5: Be responsible
Bring a water bottle! We're trying to be responsible by reducing the amount of plastic waste at our show and have installed water fountains so you can top up at your leisure. It's the right thing to do!
STEP 6: Work out how to get there
You'll need to get yourself down to The Old Truman Brewery, F Block, Ely's Yard, 15 Hanbury Street, London, E1 6QR. Click here to view on Google Maps
The nearest stations are Shoreditch High Street, Liverpool Street or Aldgate East.
And that's it! Rest the liver, get your beauty sleep and come prepared for a networking sesh to remember (you might want to pack the berocca just in case!).