Can Cannes crack the creative-tech balance?
By Dan Brain, Co-founder + Content Director, MAD//Fest 14 Jun 2019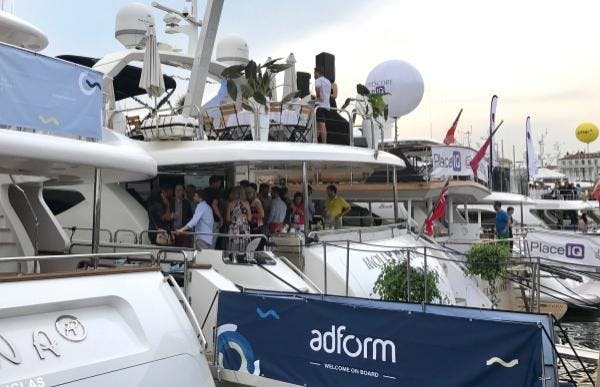 It's that time of year when the global industry converges on Cannes to celebrate the best in creativity, make deals and put a strain on France's rosé supplies.
In the last couple of years, Cannes has come under criticism from some quarters because of the influx of tech, a trend that some believe has been to the detriment of the festival's creative heritage.
In 2017, Snapchat's ferris wheel in Cannes bizarrely became the symbol of too much tech. Last year's event was a more subdued affair, a move many felt was necessary to re-balance the festival and re-assert its creative focus.
This year, the adtech and martech crew are back. So too are Publicis, one of the notable absences at last year's festival.
We caught up with leading tech execs who will be in Cannes next week to gauge opinion on this year's event and how the festival can strike the right balance between celebrating creative work and recognising tech as an important enabler of creativity and more effective advertising.
Julia Smith, Director of Communications, Impact
"Cannes Lions is back and the tech giants are set to dominate everything from the Palais to the cabanas to the conversation. Amongst the best creative ads and most exciting displays of storytelling, we can guarantee discussion around technology as an enabler.
"The role of creativity and tech has always been on the Cannes Lions agenda, but this year we can expect to see exactly how they are effectively working together like never before. Rather than the two battling it out, I expect we'll see displays of creativity celebrated by the technology that underpins the targeting and measurement.
"Yes, this is the festival of creativity but businesses want performance. Although they may not get the limelight, the martech and adtech companies behind every campaign will be the real winners."
Steffen Svartberg Founder + CEO, Cavai
"It will be interesting to see if Cannes 2019 still has a clear division between tech and creative companies. Last year, Cannes Innovation speakers, awards entrants and winners were made up of the creative / media leading companies and it will be good to see a more balanced line-up this year.
"However, Cannes is increasingly being seen as the place for tech companies and their clients to unite and pivot this event into one that actually delivers results; and is now global meeting point to network and do real business.
"Captify, Facebook, OpenX, Spotify are all going all out this year but there is more diversity in networking options from parasailing with Just Premium, to cycling and yoga with Adobe to the Digital Leading Ladies hosting a lunch for 44 of the most senior and entrepreneurial women in the industry. We are also expecting new technology to drive the conversation and topics of conversational advertising, AI, voice activation and OTT are likely to headline this year."
Jenny Stanley, Founder + MD, Appetite Creative
"There has been a significant change over the years at Cannes Lions and the most profound is the increasing presence of technology at what was a creative led event. The idea of welcoming tech companies was to embrace and promote technology that enables creativity.
"This year, I believe that we will hear more conversations about how creativity enables and enhances technology. The prime driver of this is Google's new set of controls which have pushed creativity into the spotlight. Marketers are beginning to understand that although cookies are on the path of extinction and are already entirely blocked by two browsers: DCO, creative analytics, real-time creative change, and innovative formats can still drive active engagement for brands, without the need for cookies.
The fundamental truth is that the ad creative has to be strong, otherwise you end up optimizing the delivery of something that's as useless as a wet paper bag! It's a well known fact that quality creative with fuzzy targeting has always worked better than mediocre creative with brilliant targeting. The demise of cookies means it's time to be smarter with our creative, so we expect to see the conversations being driven by creativity and innovation in Cannes this year."
Mattias Spetz, Managing Director EMEA, Channel Factory
"Last year, LinkedIn's country manager, Josh Graff stated during a Dentsu Aegis panel that 'trust is built in drops and lost in buckets.'
"This is still true a year on and transparency and trust will be raised throughout Cannes this year. There is a general feeling that the time has come to talk less and act more and we expect to see and hear talk about the results from delivering brand safety and trust in measurement; rather than just the plans.
"Brand suitability is also likely to be discussed taking during Cannes as the debate continues to rage on how we can renew trust for brands' in delivering brand safety inventory. Advertisers are putting this high up on the agenda; especially the need to define how important brand suitability is to their digital marketing. The location of the discussion may be in the sun and on yachts but the goal still remains the same."
Fully recovered from Cannes, Channel Factory, Appetite Creative, Cavai and Impact are picnic partners at MAD//Picnic on 10 July. Click here for info.