My Dad Wrote A Porno Creator Jamie Morton To Speak At MAD//Picnic
By Dan Brain, Co-founder + Content Director, MAD//Fest 04 Jun 2019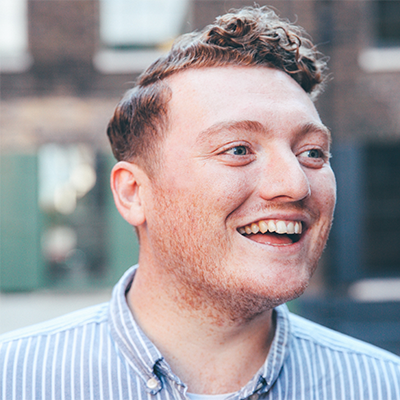 If the mere mention of Belinda Blinked and Rocky Flintstone makes you howl with laughter and cringe at the same time, you're no doubt already familiar with the podcast smash success My Dad Wrote A Porno.
Whether you're a fan or not (yet), there's something special to look forward to at MAD//Picnic on 10 July as My Dad Wrote A Porno Creator Jamie Morton will be live on-stage in a special session presented by Acast, the world's largest podcast platform.
For the uninitiated, the My Dad Wrote A Porno story goes a little like this:
Writing under the alias Rocky Flintstone, Jamie's dad, a retired builder in his sixties, pens Belinda Blinked from his shed, completely unaware that his debut adult novel would inspire comedy gold and a global podcast phenomenon.

Displaying a novel way of dealing with the inevitable shell shock and embarrassment, Jamie links up with close friends Radio 1 DJ Alice Levine and media exec James Cooper to launch My Dad Wrote A Porno in 2015 - a podcast in which the trio read, analyse and debate Jamie's Dad's hilarious, cringe-inducing and bizarre work.

My Dad Wrote A Porno becomes a chart-topping success, amassing 160 million listens over four seasons.

Iconic venues such as the Royal Festival Hall and Sydney Opera House host sell-out live audiences and the biggest podcast gig in the world. A best-selling book, Webby Award nomination and HBO comedy special follow.
Quite an achievement for father, son and friends...
So why should people attending MAD//Picnic care about podcasts and hearing Jamie speak?
Podcasts have gone mainstream - 25% of people listen to a podcast each week, according to AudienceProject. Podcasts are a cultural trend that are gathering pace.

Eager to capitalise on their popularity, authenticity, scalability and low production costs, brands are also switching on to podcasts in droves, producing their own podcasts or taking advantage of plentiful sponsorship or advertising opportunities.

My Dad Wrote A Porno is storytelling at its best. As every man and his dog attempts to launch a podcast, get under-the-skin of one of the medium's finest examples and gain clarity on whether podcasts should be part of your marketing mix.

Adtech is coming to podcasts - the programmatic capability for podcasts is getting stronger and global podcast advertising spend is set to double to $1.6bn by 2022, according to WARC. Whilst there are potential rewards, there are risks too. The ability to target highly engaged listeners with programmatic ads might sound desirable, but it could damage the user experience and be to the detriment of the intimate nature of listening to podcasts.

It'll make you laugh. Honestly, MAD//Picnic has loads of brilliant keynotes, exciting tech to immerse yourself in and live brand challenges to get stuck into. By the time you get to this one, a bit of light relief, beer in-hand will be just what you need. Unfortunately, we don't have any sofas to hide behind!
Complimentary VIP passes for brands and agencies are almost all gone. If you want to snap one up, make sure you apply here.
And if you're in the mood, binge on My Dad Wrote A Porno on Acast.