All Eyes On Attention - The Best Of ATTENTION@MAD//Fest
05 Aug, 2022
Attention was a hot topic, playing to packed audiences, at last month's MAD//Fest. We spoke to numerous industry friends and colleagues over the three days and heard their take on attention. Here are a few highlights from conversations we had.
How does meaningful population uplift impact the ethics of the attention economy?
Jaimesh Patel, Senior Sales Director, LoopMe: I think brands and advertisers need to judge ad campaigns on the number of lifted users or outcomes. This is ethically important because it reduces our footprint of total impressions. From a sustainable perspective, buying the impressions that matter - the ones that will drive outcomes - with the help of attention is important, rather than operating a more traditional, scattergun approach to targeting that is famously resource-intensive on power-hungry servers.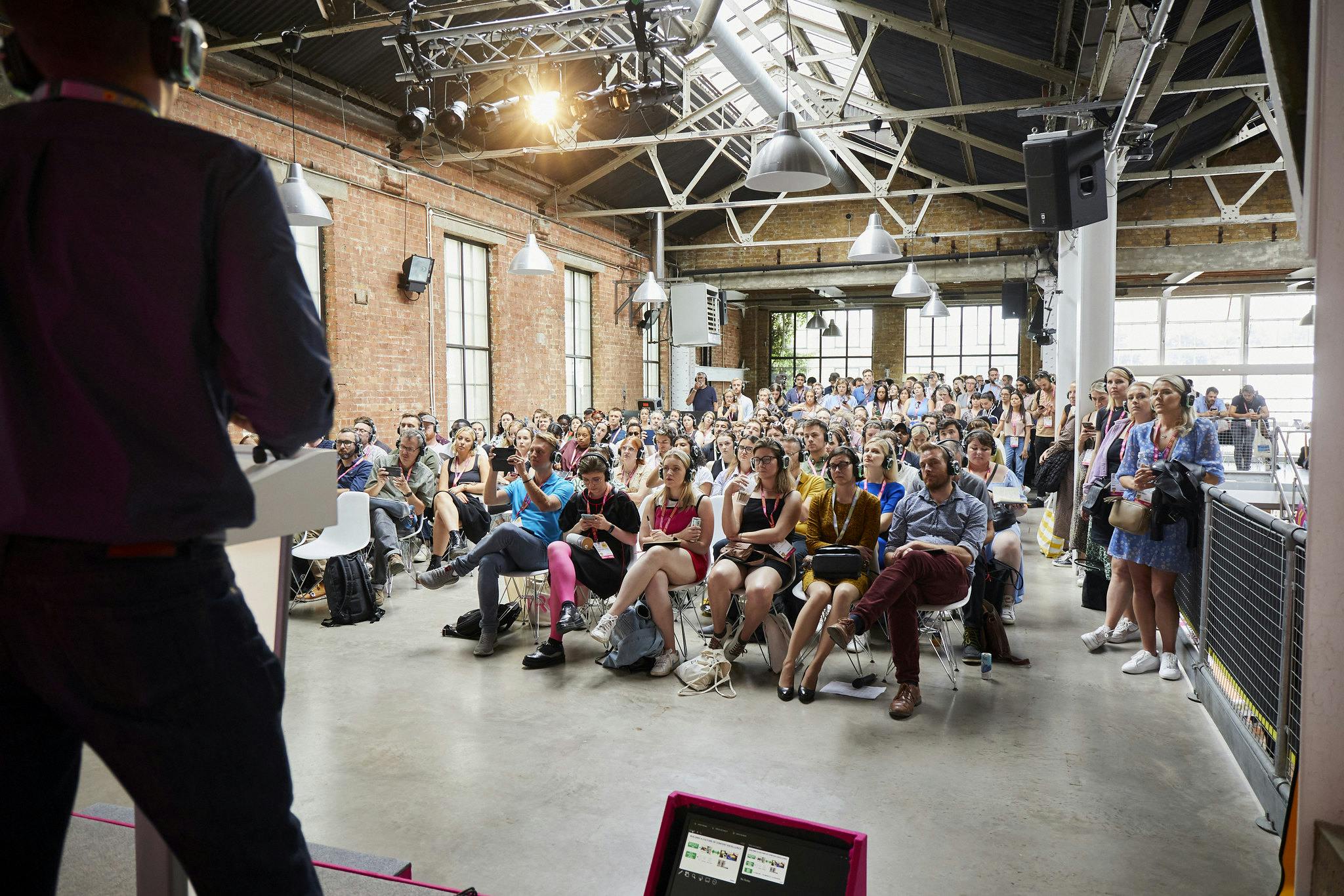 The ATTENTION@MAD//FEST stage played to packed audiences for two-days at MAD//Fest
In this privacy-first era, the old rules of digital advertising are out the window. What is the role and value of attention in this brave new world?
Martin Radford, Director of Research and Insight, Ebiquity: I think, for me, understanding attention is really all about efficiency. These days, there are so many different channels through which to talk to customers. But, how many of these ways actually deliver results? We can measure performance based advertising quite quickly. But attention gives us that leverage for understanding brands, which isn't going to deliver short term results.
How do you describe the relationship between contextual advertising and attention?
Rob Hall, CEO, Playground xyz: The results of our latest study suggest that context will drive the attention an advertisement receives. So, by putting the right creative into the right context, we get a boost in attention, which is basically saying that context identification is a driver of the ultimate attention a campaign gets.
Can you put a price on the cost and value of attention?
Simon Moore, Director of Marketing and Media, Dreams: Well, that's the million-dollar question, isn't it? Unfortunately, It's hard to put an exact figure on it. What attention does is enable us to understand online and offline media, the price that you pay, what you get off the back of it, and what contributes to effectiveness. And it also enables you to gain a better understanding of consumer behaviour. Beyond measuring just broad impressions - which is fairly meaningless - nothing else does that like attention.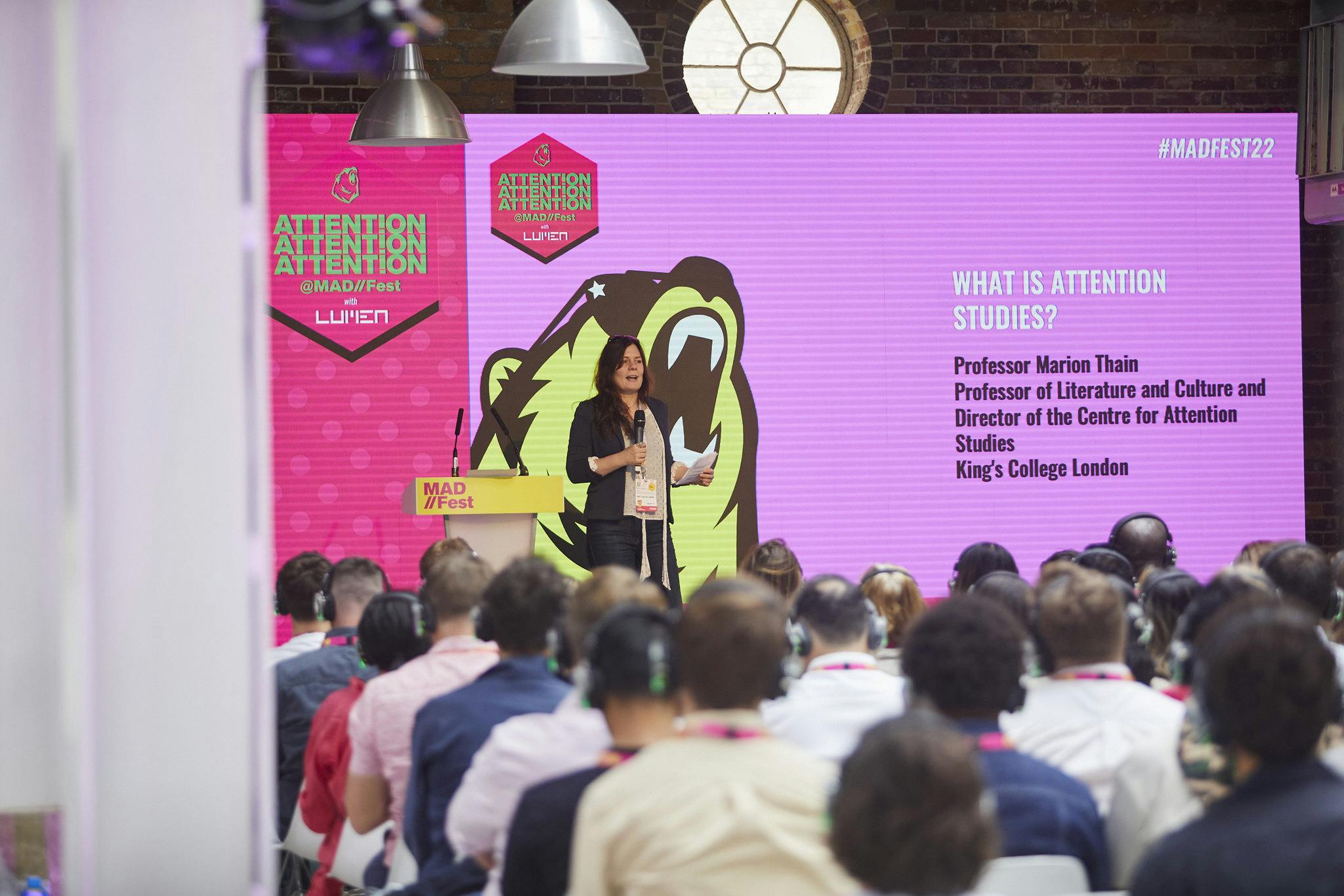 Professor Marion Thain on the ATTENTION@MAD//Fest Stage
What would you describe as key challenges for those encouraging the use of attention as a standard metric?
Professor Marion Thain, Professor of Literature and Culture and Director of the Centre for Attention Studies, Kings College London: Well, first of all, our understanding of attention is in its relative infancy, and we need to come together as an industry to invest time in progressing just what attention means. This is critical. We also need to take a holistic view of what attention means for consumers. There's a tendency in this industry to carry on as if attention is something that has just been invented, yet since the dawn of time human attention has always been dragged in different directions. I think a key challenge is to resist such a simplistic, binary approach and join a conversation that involves richer discussion.