Burberry Global VP Innovation: The Metaverse Is The 'New Frontier Of Storytelling' For Brands
22 Jul, 2022
The metaverse is the 'new frontier of storytelling' which will allow brands to engage with customers in a way that they have not been able to before, believes Burberry's Global VP Innovation, Rachel Waller.
The metaverse is the "new frontier of storytelling" which will allow brands to engage with their customers and community in a way that they have not been able to before, according to Burberry's Global VP Innovation, Rachel Waller.
Speaking at MAD//Fest London earlier this month, Waller told attendees that as people begin to co-exist between their physical and digital identities, brands should explore how they can interact with their customers in the metaverse and "create new brand experiences for a new world."
Why are fashion brands taking a first mover approach to the metaverse?
Waller did not accept that it was odd for luxury fashion brands to be taking the leap into the metaverse - she believes that they are natural partners. For her, if you boil down what fashion is about, it's centred on creativity, fantasy, self-expression, and imagination. Therefore, "the metaverse is a wonderful extension for brands to lean in and start to build their imagination in entirely new ways."
She went on to say that the metaverse is the "new frontier in storytelling". How brands interact with their communities via the internet 2.0 is fine, up to a point. Yet, she argued that this was a one-way relationship, with brands essentially telling their customers stories about the brand, explaining why their values should matter to them. The 'very exciting' opportunity with the web 3.0 lies "in allowing people to live brand experiences" and "have a first-hand experience of iconic Burberry heritage stories."
Alongside the exciting creative opportunities, the metaverse provides, there also exists the practical reason - brands need to be where their customers are. Burberry is always trying to find new ways to connect with customers in the spaces that matter to them. As people now move seamlessly between their on and offline identities, brands need to adapt and follow them. Hence, Burberry creating luxury digital experiences that speaks of where their community is today.
Waller said that Burberry's task is to seamlessly create a consumer journey for the future and engage with younger consumers, more likely to be digital natives, "to leverage brand IP on new, blank canvases" to "merge the physical and digital worlds."
How does this connect to Burberry's consumers and community?
Waller told the MAD//Fest audience that the luxury consumer already exists in these spaces. Gaming is the perfect example given the sheer volume of people who play games. The key for brands, she argued, is how you "work out how you want to engage in these spaces".
For her, utility is vital. "What is the value exchange between your community and you?" How do you give them long term value, whether it's an NFT, digital products, or a gaming partnership?
In exploring these new digital spaces, Waller stressed the importance of partnerships. She believes that partnerships, "allows you to lean in to new communities, new ways of thinking via other people's expertise, leverage diverse opinions, and learn how to 'best connect' in these spaces."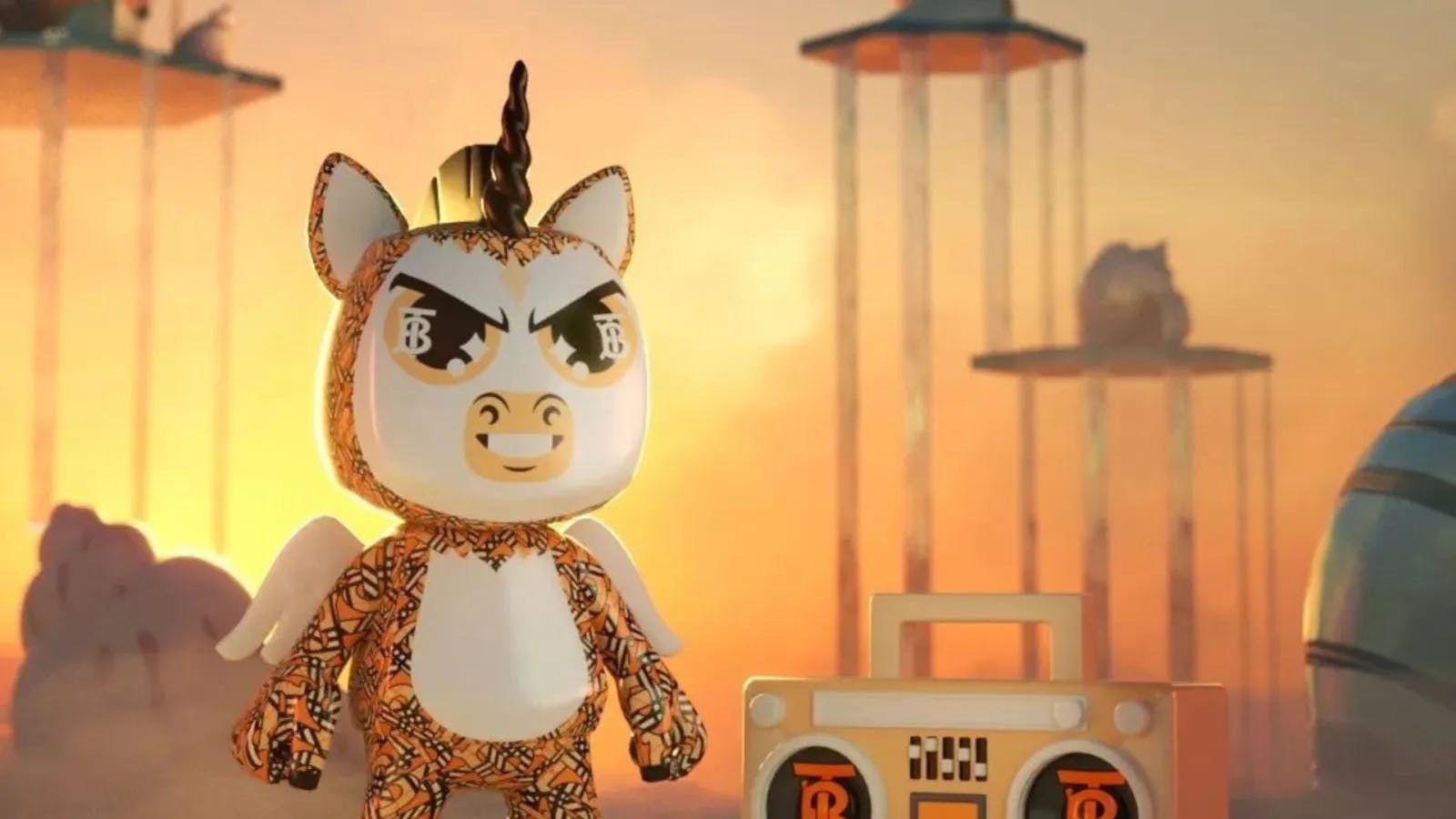 Blankos Block Party - Burberry's NFT based game in collaboration with Mythical Games
Their partnership with Mythical Games for Blankos Block Party hit all the key points Waller made. Above all it was rooted in authenticity and shared Burberry's values of "creativity, community, and exploration", with the design team "paying as much attention to the characters, as they do for a Burberry garment."
How do you show up, given the unknowns?
Waller finished with five key tips for brands wanting to explore how they could engage with the metaverse.
Think long-term - Given the crypto bear market, now is not the time for stunts or creating quick flip assets. Anchor what you do in community, so create memberships and develop your web 3.0 offering long term.

Root it in authenticity - Ensure what you create has your brand DNA running through it. Ask yourself, "how does it bring your brand story to life?"

Have a core set of strategic principles - have a set of guiding principles that you keep coming back to and evolving.

Be open-minded - Seek diverse opinions. Exploring your brand engagement with the metaverse is a great chance to bring together the greatest creative thinkers and technologists. It's a great opportunity to "leverage your brand's collective passions"

Don't be afraid to experiment and learn - This is a brave new world and no one has all the answers. Therefore, experiment and don't worry if you get things wrong.
Over 8,000 people attended MAD//Fest on 6-7 July. Speakers included Cristina Diezhandino, CMO, Diageo, Sarah Barron, CMO, Domino's, Peter Zillig, Marketing Director, Ford Europe, Susan Hoffman, W+K, and author & broadcaster, David Baddiel. Full sessions are available now on our YouTube channel.