Publicis, Dentsu X And Wavemaker Lead MAD//Fest's New Brand-Agency Initiative
05 May, 2023
Publicis, dentsu X and Wavemaker have been selected after a competitive pitch to host MAD//Fest London's new Client Club Lounges at The Old Truman Brewery on 4-6 July at The Old Truman Brewery.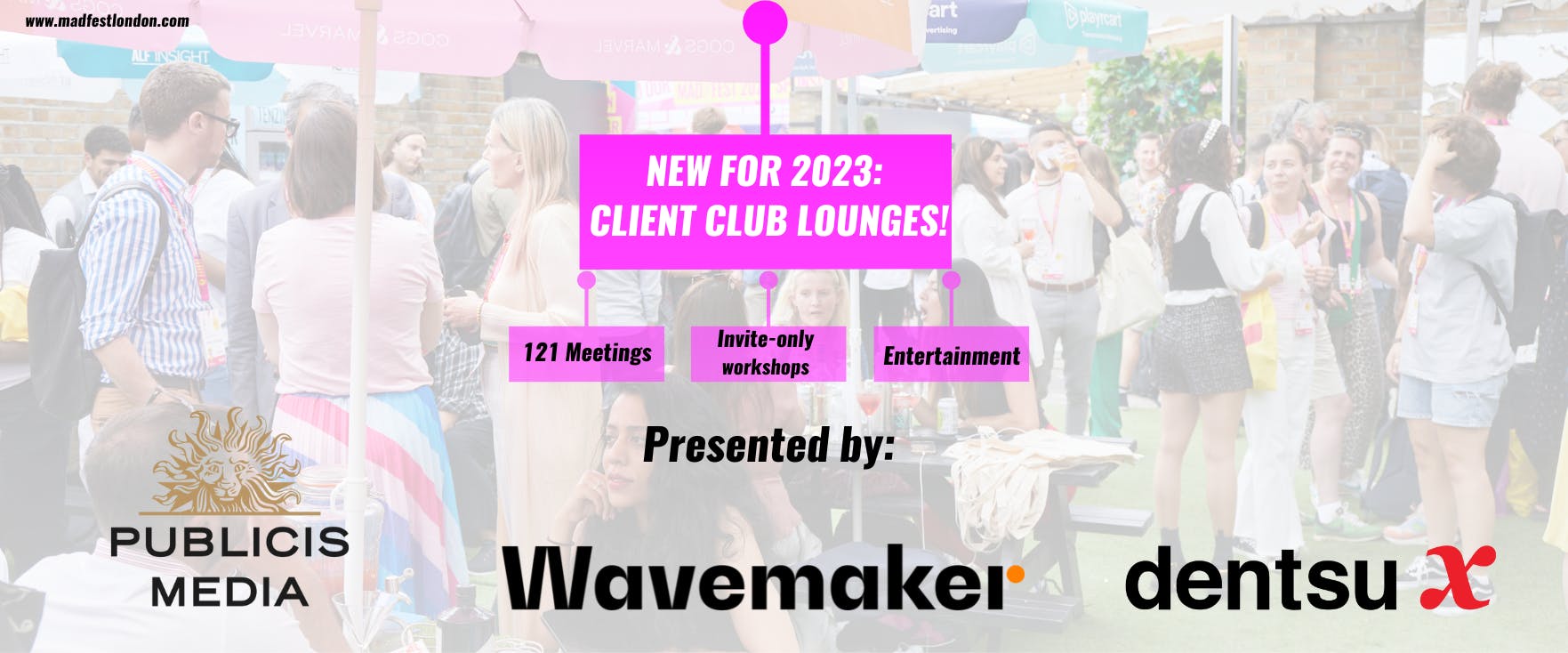 Hosted each day by a different agency, the Client Club Lounges provide a private space for their senior clients to attend agency-led topical workshops, one-to-one meetings with chosen exhibitors and enjoy the entertainment that each agency has laid on.
Over 300 senior marketers are expected to attend the Client Club Lounges, which will be overseen by Publicis Media (4 July), dentsu X (5 July) and Wavemaker (6 July). The agency trio won a competitive pitch in which agencies were invited to submit their ideas for the Client Club Lounges.
The Lounges are available exclusively for Publicis Media, dentsu X and Wavemaker clients and places are by invitation only.
The concept has been created by former Publicis Media Global Head of NextTechNow and MAD//Fest Agency Partnerships Consultant Jim Kite. The initiative is expected to be rolled out at scale in 2024 following its pilot this year.
"MAD//Fest's Client Club Lounges have proved to be a hit with agencies and clients alike. As the UK's largest and leading festival for our industry, MAD//Fest has an important role to bring clients and agencies together at a time when collaboration is crucial but we are more physically disconnected in the way we work," said Kite.
"The Client Club Lounges will create a space for top clients to engage with the innovative tech providers exhibiting at MAD//Fest and provide a collaborative forum to help shape strategy at a time of mass disruption," added Kite.
"We are so excited to be taking over MAD//Fest's brand-new agency lounge on the final day of the festival," said Kelly Parker, Wavemaker UK's CEO. "The ability to own an exclusive space for our clients at such a legendary event is a rare opportunity and we will certainly be making the most of it. We're currently curating a programme for the lounge that will positively provoke our clients to share challenges, discover better ways to grow and be sure to leave feeling inspired."
Whilst Sanjay Nazerali, Global Client and Brand President, dentsu X felt that, "MadFest aligns perfectly with our mission to inspire and drive positive change in the media and advertising industry. We are excited to showcase our latest innovations and insights around motivations at the event, connect with industry peers, and collaborate to create more meaningful connections between brands and consumers."
"I am really looking forward to sharing MAD//Fest with our clients in our Publicis Media lounge this year! From the exciting line up of speakers to the immersive experiences planned, it promises to be an unforgettable event," said Karl Newman, UK MD, Publicis Media Content, Publicis Media, adding, "I can't wait to be a part of the energy and creativity that will be on display, and to connect with fellow attendees who share my passion for this industry."
MAD//Fest London is the UK's largest marketing and advertising festival and recently picked up 'Event of the Year' at the UK Event Awards. This year's show is expected to attract more than 10,000 brands and agencies. Speakers include Tesco Chief Customer Officer Alessandra Bellini, Castore Founder Thomas Beahon and Ben & Jerry's Director of Global Activism Christoper Miller, LIPTON Global Chief Marketing + Digital Officer Aparna Sundaresh, Co-op Chief Customer Officer Kenyatte Nelson, S4 Executive Chairman Sir Martin Sorrell and Ogilvy Vice-chair Rory Sutherland.