First Direct Head Of Brand + Marketing: If You're Standing Still, You're Moving Backwards
10 Mar, 2023
In this week's Little Grey Cells, Chris Wood, first direct's Head of Brand and Marketing, shares how the '34-year-old challenger bank' keeps its curious edge to ensure it's always innovating and evolving.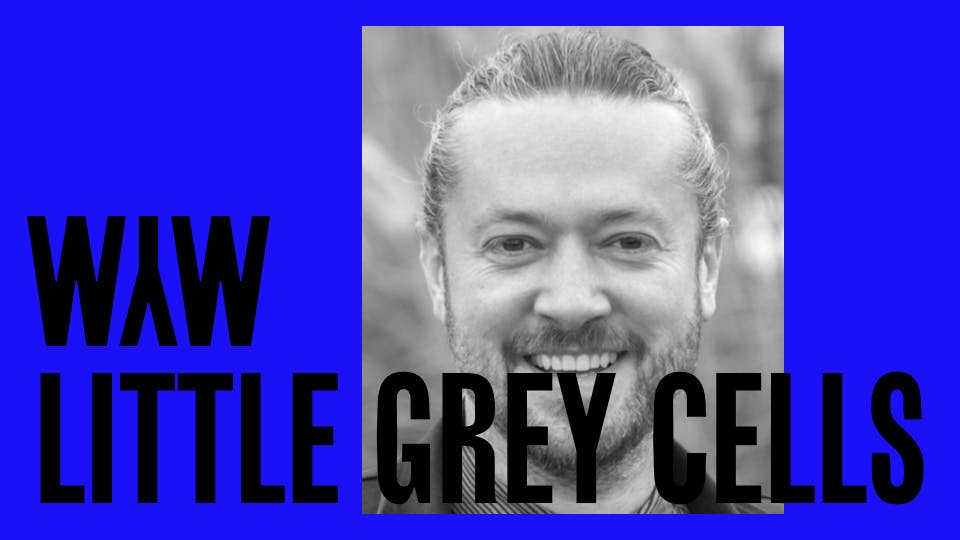 1. What inspired you to pursue a career that embraces marketing?
I'm an incredibly curious person, with a deep interested in people and their behaviours. Throw in a love for creativity and problem solving, and marketing really is the perfect career for me.
2. What are the biggest challenges currently facing your marketing team?
first direct was the original challenger bank. We're 34 years old now, so well established, but I need the team to keep thinking and behaving like a challenger brand. That's a real mindset challenge.
3. Science vs Art: With scientific data-driven marketing at one end of the spectrum and genius creative ideas at the other - which side do you lean towards?
Whilst personally I lean towards the creative side of marketing, I'm going to sit right in the centre, as I genuinely believe that the best marketing needs both brilliant creative and data.
The continued and rapid evolution of A.I. in incredible. Just look at the rise of the likes of ChatGTP. When it comes to the science, A.I.s ability to process, analyse and interpret data isn't in doubt, so I see real tangible marketing benefits when it comes to digital marketing and optimisation.
However, when it comes to art, it's more nuanced. On one hand, we're seeing huge improvements in A.I's ability to use natural language processing to generate human-like responses, and through data, it can identify the ingredients that have historically delivered great marketing campaigns. However, I don't think it's yet able to put those ingredients together in the right way… that's where I believe we still need that human touch.
5. How is First Direct's marketing 'Riding the Storm' of economic turbulence and increased cost of living?
People are facing such extraordinary challenges in their day-to-day lives. As a brand it's super important that we acknowledge this, and importantly demonstrate how we can help.
That thinking was central to the development of our latest marketing campaign and helped us come up with the line 'first direct, that's a whiff of hope". Importantly, it's not an over-promise. It's not saying we can solve everything, but it does allow us to talk about where and how we can help.
6. How do you adapt a business and marketing strategy to embrace the latest trends and keep ahead of the competition?
Change is a constant, so if we're standing still, we're moving backwards. We've got to be curious at all times, and make sure we create, and importantly protect the time, to look ahead, innovate and continue to evolve. All too often, when people are busy, the first thing they drop is the time spent looking ahead.
It's also super important that we continue to listen to our existing and prospective customers, to make sure that we remain relevant, continue to meet their needs, and that we turn up in the places where they spend their time.
7. What role does your company's purpose and environmental strategy play within your marketing strategy?
Our company purpose plays an integral role in our marketing strategy. Its front and centre in our communications, product, and proposition development.
8. How important is storytelling when maximising your customers' engagement with a campaign?
Story telling is super important. Marketing campaigns are ultimately designed to inspire and influence, and information alone rarely does this as powerfully as when is communicated through a well-crafted story.
9. Creative agencies rail against the time and resource spent working on pitches to win accounts: is there a realistic, fair alternative to the pitch process?
The pitch process done poorly is bad for both clients and agencies, but when done properly it can be brilliant!
Recognising these challenges, and the important role we can play to drive positive change in our industry, as a business we've signed up to Pitch Positive. We're 100% committed to only pitching when we absolutely must do. And when we do pitch, ensuring that we behave in the best possible way.
10. From a marketing perspective, what's coming up for your brand or business in 2023?
first direct is an incredible business and a fantastic brand. We're fabulous at customer service, have an incredibly loyal customer base, but we're the best kept secret in banking. We have huge growth ambitions, but we can't outspend our competitors, so we've got to outthink them in terms of creative, media, where we turn up and what we say.
11. If there's one thing you know about marketing it is…?
That it must be all about the customer!
Little Grey Cells is Tim Healey's weekly profile interview platform where leading marketers share their valuable insights and experience, presented by Worth Your While.
Outsourced Marketing Director and best-selling author Tim Healey collaborates with senior marketers to help them have more time, less stress and clearer marketing strategies through his consultancy Shoot 4 The Moon Ltd. Book your meeting.
You might die tomorrow so make it worth your while. Worth Your While is an independent creative agency helping brands do spectacular stuff people like to talk about. wyw.agency.