L'Oréal CMO: AI Might Not Bring Sweeping Change
17 Mar, 2023
In this week's Little Grey Cells, Chief Marketing and Digital Officer for L'Oréal (UK & Ireland), Lex Bradshaw-Zanger, shares his predictions on AI and why stories are key to consumer engagement and overall brand recall.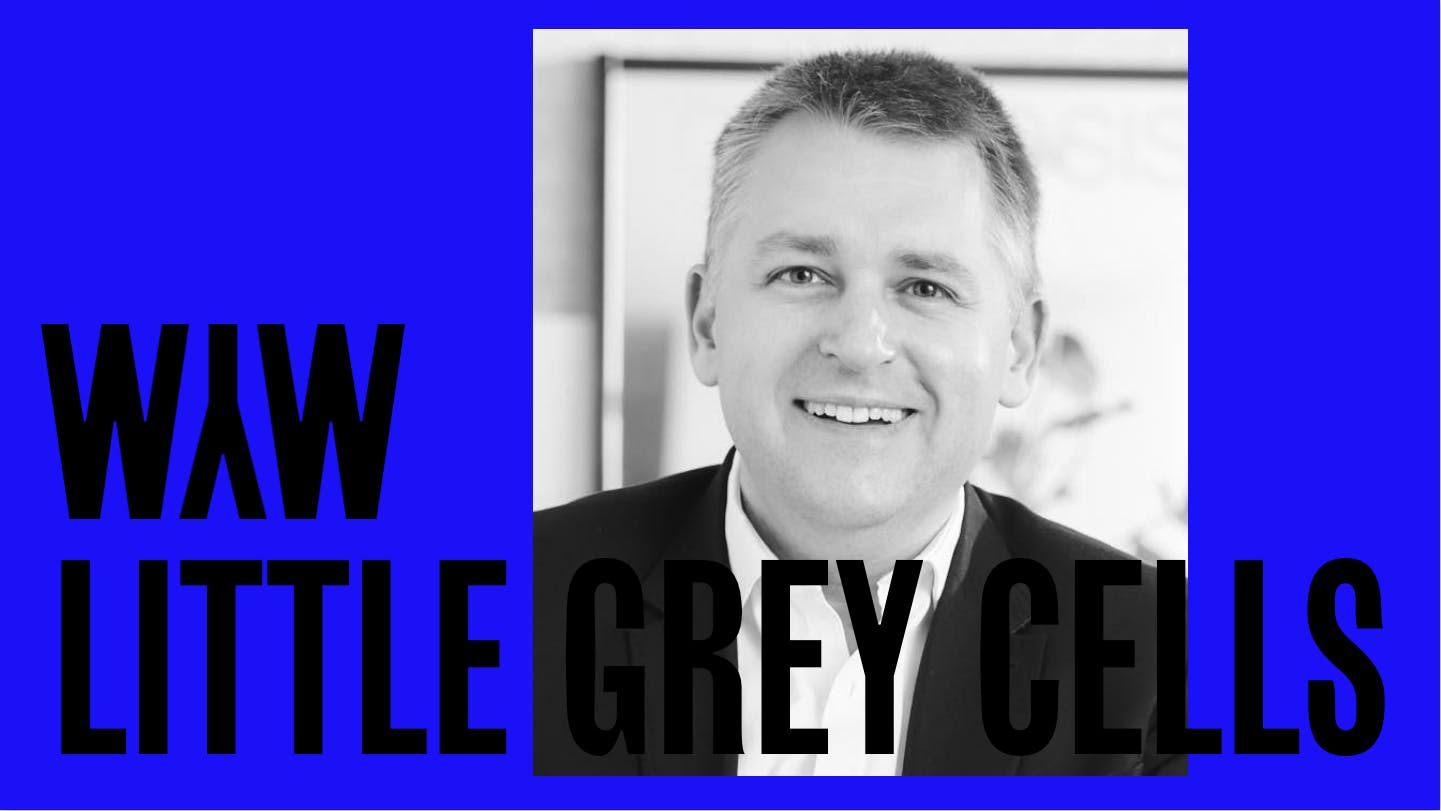 1. What inspired you to pursue a career that embraces marketing?
I started my career in the agency world where I saw the wonder of creativity and business come together; 10 years later I came client side as the creativity element of that expanded beyond just copy and visual to how we engage with consumers through technology and I was extremely lucky to ride the wave of digital transformation through media, CRM, apps, social and eCommerce.
I don't touch much 'creative' today – but every day is full of creativity and innovation!
2. What are the biggest challenges currently facing your marketing team?
Complexity is the biggest challenge in marketing today – channels can't live in isolation and so multiple experts need to come together; the thinking as a result has got harder with multiple channels, formats, objectives we need to be crystal clear on a strategic objective.
Marketers now need to be data experts as well as curious about consumers, they need to be tech savvy and business savvy at the same time.
One of my favourite books is Range, by David Epstein – not only because it helped me to explain my squiggly early career, but also because it's true in marketing today. To be a great marketer you need to pull on many different skills and experiences to craft the right consumer journey – it's not a straight career path anymore.
3. Science vs Art: With scientific data-driven marketing at one end of the spectrum and genius creative ideas at the other - which side do you lean towards?
I pride myself on being both, depending on the time of the day, the project and how much coffee I have had.
I studied finance at undergraduate and MBA level, so I come at things from a very analytical POV (my blue side), and the digital side of marketing has always been very numbers driven, but then I also know that when dealing with people making decisions about brands and products, it isn't always rational – and so understanding behaviour and emotion is important.
I love looking at strategies and at the same time polishing consumer experiences until they're perfect, so I can be big picture as well as in the details –I like to think that I'm close to being the polymath that covers both sides of the brain.
4. In marketing, when is it ok to rely on A.I. and when do you think you definitely 'need a human'?
AI is going to change marketing, of that there is no doubt – but it might not be the sweeping change that we always expect from technology disruptions, and it will surely have impact that we can't see yet.
Some predictions:
A move away from data skills to managing AI skills. We're in a race to harness data that takes lots of new skillsets around engineering, visualisation, and analytics. Big data and AI might just leapfrog this and bring insights straight to the user.
Dynamic content creation has always been a challenge for big brands – we've seen AI do this on visuals, text and even music; this could be exciting, but I don't think it will remove the need for human creativity.
Finally content curation is probably the killer app right now (even if it's only to December 2019) – AI is most definitely way faster than reading everything on a subject and trying to summarise it!
5. How is your approach to marketing affected by times of economic turbulence and increased cost of living?
We're lucky to be the number one player in beauty and have a portfolio of more than 30 brands that cover all distribution channels and price-points.
Our category is also lucky to benefit from the "lipstick effect" which says that in times of uncertainty people pull out of bigger ticket items but still spend on beauty which continues to drive joy and self-esteem.
6. How do you adapt a business and marketing strategy to embrace the latest trends and keep ahead of the competition?
We've always been an innovative business across both our products and our route to market; when you're the number one player there is a certain responsibility as well as a necessity to keep reinventing yourself.
In the UK, we know that this means staying on the edge – we built dedicated eCommerce teams before the pandemic hit, we were a pilot organisation for TikTok shopping and we invest continually in our people – most recently in partnership with Oxford University on a programme around the Future of Marketing.
Learning, evolving and adapting are part of our DNA, and remembering that marketing is both art and science means that it never stands still.
7. What role does your company's purpose and environmental strategy play within your marketing strategy?
I'm proud to work for an organisation that very early on was aware of its need as a business to respond to environmental challenges.
Seven years in a row on the CDP A-list has proven how far ahead the Groupe's thinking has been.
Our first programme, Sharing Beauty With All, that ran until 2020 really looked at our footprint and supply chains. And our new programme, L'Oréal For The Future, aligned with the Science-Based Targets Initiative will look at this at an even broader level. And we're starting to investigate new areas around Tech4Good and our digital footprint ahead of the market, because we know that it matters.
8. How important is storytelling when maximising your customers' engagement with a campaign?
Stories are key to consumer engagement and overall brand and product recall – it is how we as people share knowledge, history and emotions, and so humanising our communication is critical to making it impactful and effective.
9. Creative agencies rail against the time and resource spent working on pitches to win accounts: is there a realistic, fair alternative to the pitch process?
Having been on the agency side I know both the joy and the challenge of being part of these processes. (I also know that sometimes not having a client can make the best work come out).
I think it's part of the process and has always been built into the model as part of business development.
10. From a marketing perspective, what's coming up for your brand or business in 2023?
After the acceleration that was brought on by the pandemic we're now truly in an online and offline world that is driven by data – these are probably the two key areas where you'll see our brands move forward. eCommerce is now well beyond nascent, and consumers are moving on and offline depending on the buying situation; we need to make our journeys seamless and respond to these changes.
The overall complexity of the marketing space also means much more data driven decision making and this means tech, and AI, that will help us make better and faster decisions.
11. If there's one thing you know about marketing it is…?
We won't ever make marketing a pure science or have it all driven by an algorithm. People are intrinsically all different and not all rational – and that is what makes the core joy of this role that it's about understanding people and communicating with them.
From 1 May 2023, Lex takes on a new role at L'Oreal as Chief Marketing & Digital Officer, South Asia Pacific, Middle East, North Africa.
Little Grey Cells is Tim Healey's weekly profile interview platform where leading marketers share their valuable insights and experience, presented by Worth Your While.
Outsourced Marketing Director and best-selling author Tim Healey collaborates with senior marketers to help them have more time, less stress and clearer marketing strategies through his consultancy Shoot 4 The Moon Ltd. Book your meeting.
You might die tomorrow so make it worth your while. Worth Your While is an independent creative agency helping brands do spectacular stuff people like to talk about. wyw.agency.