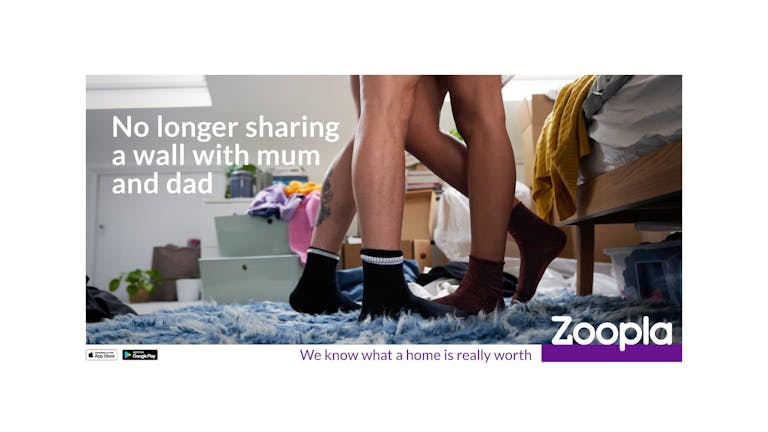 Safe As Houses: How Zoopla Has Repositioned Its Marketing During 'Hollywood Thriller' Year
19 Feb, 2021
Zoopla CMO Gary Bramall speaks to Control v Exposed President Paul Frampton about why empathy and understanding have become crucial in the property platform's marketing campaigns during the pandemic.
Zoopla has repositioned its marketing over the past year to become more empathy based as it aims to stand out in a frenetic property market.
CMO Gary Bramall described the past year as a "Hollywood thriller" for the property industry, which has had to cope with Brexit uncertainty followed by a complete standstill in transactions when the first lockdown hit which made way to an unprecedented boom during the stamp duty holiday.
Bramall described how the marketing team "switched everything off" early in the first lockdown and gave the bulk of its budget back to the business. However, this was turned on its head when the stamp duty holiday was unveiled and Zoopla has just undertaken the largest marketing campaign it has ever done.
Bramall says getting the marketing tone right has been critical in these strange times: "Zoopla has tried to reposition and empathise about what the home is really worth. As a result our marketing has changed since the start of [last] year from being quite brand centred to empathy and understanding and reaction to the new status quo," he says.
"We're educating and helping you know what your home is worth and supporting people making decisions, whether they're moving out of cities to get more space or whether they want to feel more protected."
Zoopla's marketing team has had to pivot quickly during the past year and Bramall says his team are now empowered to make big decisions a lot quicker without the same level of review that was undertaken previously.
"Marketers spend real money and getting them to attach it to the performance of the business and orienting it around what the market wants has been fundamental," he says.
Bramall was speaking at MAD//Anywhere. MAD//Anywhere returns on 10-11 March for a two day event focused on how global brands and challengers can use technology, innovation, creativity and content to drive businesses Forward.
Speakers include Teddy Goff, the digital guru behind Joe Biden's successful 2020 US Presidential election campaign, Eve Sleep CEO Cheryl Calverley, Confused.com CMO Samuel Day, O2 CMO Nina Bibby, Purplebricks CMO Ben Carter, Yorkshire Tea Marketing Director Dom Dwight and Ben & Jerry's Head of Activism and Social Mission Rebecca Baron.
Tickets are available here.