The Secret Of Crocs' Remarkable Brand Turnaround: Create Fans And Listen To Them
05 Aug, 2022
Being 'fan-centric' has been at the heart of Crocs' brand transformation from a joke into a pop-culture and fashion icon, says Crocs' Senior Marketing Director, Yann Le Bozec
Speaking at MAD//Fest last month, Le Bozec outlined how Crocs went from the ugly duckling of the fashion world, to being a true fashion icon, and having the holy grail for a marketer - millions of engaged fans.
The rubber clog started life 20 years ago, in 2002, with fantastic results - sales grew rapidly to $150 by 2005 and by 2006 Crocs' IPO was the largest ever for a footwear brand. However, things quickly went downhill. The brand lost focus and made the twin mistakes of "overdiversification and over distribution."
By 2016 the brand was near rock bottom. As Le Bozec put it, Crocs were "on the wrong side of culture… the world thought that we were a joke."

Crocs at rock bottom - A headline from 2016
How did they turn the brand around?
"We didn't have an awareness issue, we had a relevance opportunity." Le Bozec admitted that, "we are polarizing, but the consumers that love us. Really love us." Therefore, Crocs put self expression at the heart of the brand and "we learned the power of collaboration by creating a variety of authentic global partnerships."
Le Bozec said that Crocs "focused on digital and created a global brand playbook." They recognised the potential of their classic and iconic clog and focused on it. "We deepened our consumer connection by listening to our fans, engaging with youth culture and positioning crocs as a canvas for self expression."
Crocs became an innovative digital first and social first brand. The new brand vision was for everyone to be comfortable in their own shoes.
Crocs then created several authentic partnerships.:
+ First, by partnering with mass celebrities. "We we believed could help drive relevance and because we needed the reach of those amazing celebrity ambassadors to help shift this perception.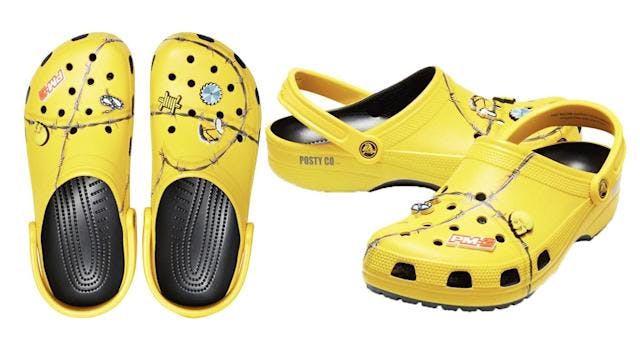 The power of collaborations - The Post Malone Crocs which sold out in under 10 minutes
+ Second, by entering many creative and innovative collaborations. Crocs have collaborated with music artists like Justin Bieber, and the rapper Post Malone, and many fashion brands, all who have been inspired by Crocs' iconic silhouette. They have also merged their DNA with more unexpected brands, like Kentucky Fried Chicken, which resulted in the first shoes that smelled like fried chicken.
Le Bozac believes that these collaborations have been "instrumental in transforming our brand from a clog to an icon. It helped consumers to engage with a reimagined product that is as unique as them… Authentic brand ambassadors continue to bring new consumers to the brand each and every single day"
With an engaged fan base Le Bozec believes that Crocs' secret of their success is pretty simple. "We are a brand that listens to our fans." For Crocs, building brand resonance goes beyond how to wear the clog, it's about connection. "It's a connection to consumers as individuals. So we set out to be a brand that authentically connects with fans, and fans are always right."

Croctober 23rd - A fan created and led day for all Crocs fans
Le Bozec believes that many brands do not listen to their customers or 'fans', which, in turn, means they are unable to respond to feedback, let alone turn that into action. "Because our fans are at the heart of our brand. It's our mission to continue to give them new and innovative reasons to continue to choose Crocs. So we intend to action those insights with creativity and innovation, to inspire consumers to join and not just buy our product."
To find out more about the secret of Crocs' incredible turnaround, watch Yann's session here
Over 8,000 people attended MAD//Fest on 6-7 July. Speakers included Rachel Waller, Global VP Innovation, Burberry, Sarah Barron, CMO, Domino's, Peter Zillig, Marketing Director, Ford Europe, Susan Hoffman, W+K, and author & broadcaster, David Baddiel. Full sessions are available now on ourYouTube channel.