F*ck Trump. You Are The Real Heroes
16 Dec, 2022
As we prepare to slip into a rinse-repeat cycle of festive fun, MAD//Fest Co-founder Ian Houghton reflects on a stellar 2022 and looks forward to the storm heading our way in 2023.
3 prime ministers, England actually winning something at a major football tournament (thanks ladies!) and now Donald Trump joining the NFT circus with a $99 'superhero' digital version of himself, 2022 has had its fair share of bizarre, baffling and brilliant events.
As we prepare to down tools and get stuck into the festive excesses of Guinness, sprouts and mince pies, I thought I'd take the opportunity to put my last remaining functioning brain cells to good use by reflecting on 2022 and look forward to the year ahead.
But to put 2022 into context, it's worth mentioning the potted history of MAD//Fest, which in our short existence has created more drama than an EastEnders Christmas Day special.
Back in 2018, my co-founder Dan Brain and I raided our piggy banks and took a massive gamble to set up MAD//Fest.
Disillusioned with what was available and a general lack of innovation, we felt that dull industry events had had their day and there was space for something more lively, entertaining and enjoyable.
In hindsight, it was probably one of our more reckless decisions (with the exception of the time I bought an old Jag with a leaky roof after a few too many Boxing Day tipples).
But despite our cash-strapped start-up reality, we managed to cause quite a stir, pulling in some huge speakers, sponsors and attendees with the help of friends, family and those ultra cool early adopters who made the arrival of MAD//Fest look like the launch of a new iPhone (confusing a few tourists in doing so).
The tricky second album in 2019 yielded impressive growth and 2020 was meant to be the big breakthrough year.
Unfortunately, a global pandemic had different ideas. All we could do during this period was keep MAD//Fest ticking over by bringing our distinctive content to virtual platforms. Little did we know that COVID would ultimately be a blessing in disguise for our business and a catapult MAD//Fest up the list of the must-do festivals.
In the end the big breakthrough came in 2021 when MAD//Fest was first to bring in-person events back with a simple idea that had significant commercial risks and logistical headaches - running a festival outside, in a car park.
Nobody else was mad enough to try it then but it really was a case of fortune favouring the brave. Never in my wildest dreams did I anticipate that this huge decision would propel the business on to where we find ourselves in 2022.
Thanks to the ongoing support of our incredible clients - who have often taken a punt when we've tried something new - our huge speaker line-up and our 8,179-strong audience, MAD//Fest 2022 was the vibiest and busiest UK industry event of the year.
We've been able to achieve triple-digit growth, a completely sold out festival and are honoured to have a UK Conference Awards '2022 Event of the Year' adorning mantelpiece (my mum is particularly proud of that one and didn't see it coming in my childhood).
So to all our sponsors, partners, attendees, speakers and loyal band of colleagues past and present - thank you for taking a punt on our MAD//Fest adventure. Your continued support helps our labour of love to continue to punch above its weight with an innovative product that couldn't be more different to a cookie cutter trade show.
As we move into 2023, we won't rest on our laurels and will invest even more in making MAD//Fest the essential fixture in the UK marketing calendar.
Our 2023 theme - 'Riders of the Storm' - will throw down the gauntlet to big brands, challengers agencies and platforms to show how we can be resilient, opportunistic and progressive in the face of acute challenges. Finally Dan has managed to find a legit way of incorporating a surfing bear into our branding and as a theme. Speaking frankly, anyone worth their salt and even half a compelling strategy should have a compelling story to share. Expect to be inspired by big name speakers across five cool stages.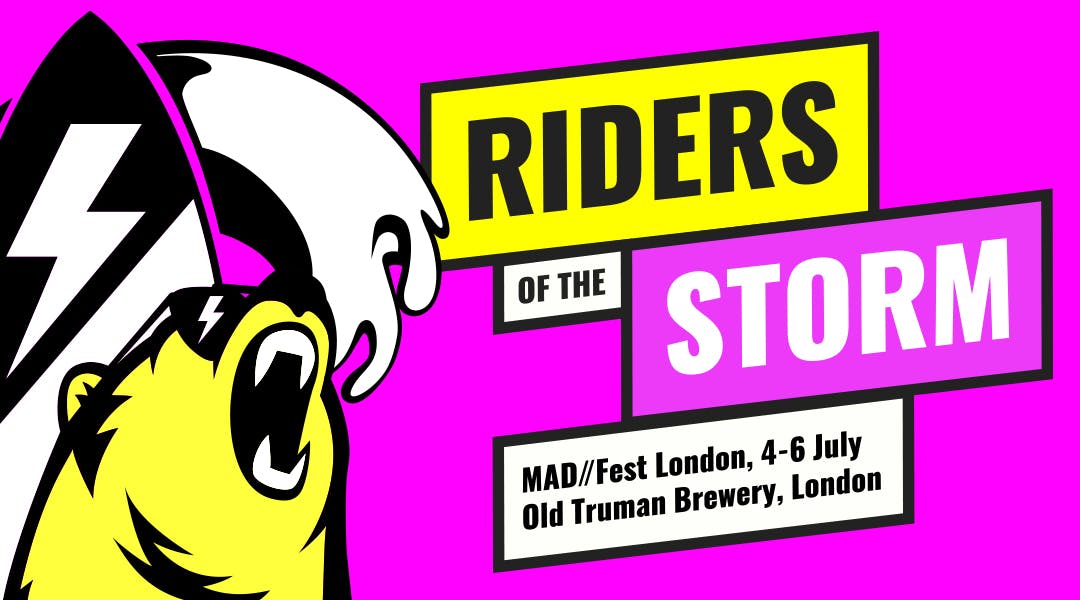 Dishoom will be back, serving their delicious brand of Bombay food to the masses, as will the perennially popular House of Innovation, where major brands supply £20k pitch briefs for cutting-edge start-ups that can address their challenges.
Life's a Beach
But I'm particularly excited about the launch of our Brick Lane Beach - a brand new site that will see a humble east London car park transformed into an urban seaside extravaganza.
Expect all the thrills of a day by the sea with beach huts, DJs, ice creams, lively bars, entertainment and spades of top notch content from industry legends on our Creativity and Experience stage. Best of all, you don't even need to leave Zone 1.
The Brick Lane Beach will make MAD//Fest about 30% bigger than 2022 and create a buzzing, distinctive space where you can learn, network and do business with the sand between your toes and a smile on your face.
This is exactly how we like to do business and judging by the demand from tech and solution providers to be part of the show, there's plenty of industry players who want to kick formality into the long grass and get into the distinctive MAD//Fest vibe.
Unlike Donald Trump, the real heroes in our world are the people who put their time, energy and investment into making MAD//Fest great.
As we scale the show and launch new products such as MAD//Masters By Rory Sutherland, we're extremely proud about where we have come from and how the blood, sweat and occasional tears have created something to be proud of and to cherish. Our appetite for innovation, reinvention and pushing boundaries remains as sharp as ever, so look out for some bold additions to MAD//Fest coming in the New Year.
So until next year, have a very merry Christmas and start counting down the days to the messy madness of MAD//Fest next summer.
MAD//Fest London takes place on 4-6 July at The Old Truman Brewery.