Retail Media: What's All The Fuss About?
06 May, 2022
In his latest column for MAD//Insight, Paul Frampton-Calero, CvE, argues that retail media networks have become the latest gold rush in advertising and are one of the hottest trends in media right now.
It's not complicated to grasp the macro trends impacting retail across the world; the pandemic has accelerated the shift towards online sales and along with that has come squeezed margins for retailers and increased pressure on physical store estate. Couple this with the growth of Amazon's ad business ($31 billion in 2021) and it's no surprise that retailers have become increasingly interested in generating incremental revenue from advertising.
As long as retail has existed, there have been co-op and shopper marketing tactics that have seen money change hands between retailers and brands. Fast forward to 2022 and the Retail Media Network, has become the latest gold rush and is one of the hottest trends in media right now. E-Marketer goes as far as calling it the 3rd wave of digital advertising, following two consecutive years of 50% growth in the United States: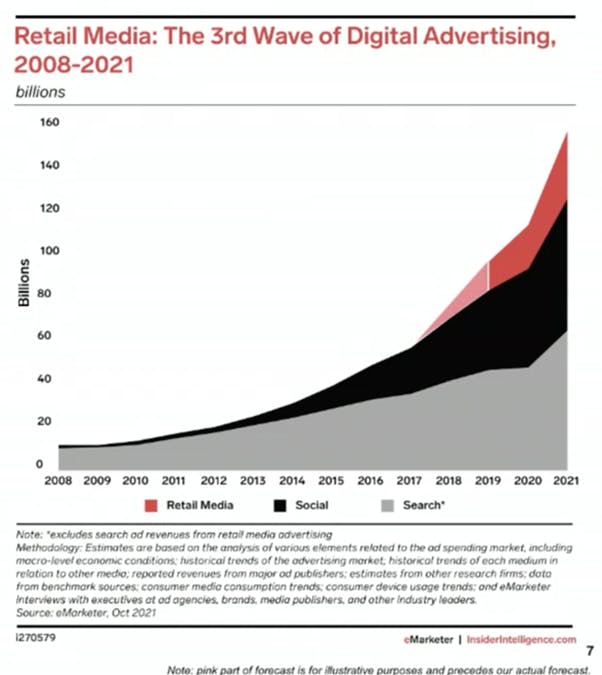 As always, the US is trailblazing here with Walmart raking in $2billion from its retail media proposition.
The appeal is obvious – incremental revenue for retailers at higher margins and an opportunity to take some loose change from the pockets of Amazon, Facebook or Google, through offering compelling 'custom audience' segments, based on transactional insights and increasingly layering in real-time stock availability. Closer to home, retail media has taken a little longer to catch fire but catch fire it has with the likes of Boots, Asda, Tesco and Ocado all jumping in to the space with an offering.
As with the plethora of advertising options that exist on Amazon and in spite of the name, retail media 'networks' are not just about fusing 1st party data sets through a DSP and activating against those audiences. Propositions range from Criteo, which has diversified its on (sponsored products) and off site proposition through acquiring Mabaya, CitrusAds, which enables both sponsored products but also co-branded landing pages and first party data being plugged in to Facebook. As with the evolution of digital advertising, in the early days search-like formats dominated but as time goes on, more mid and upper funnel formats, like display and video, have emerged on Amazon and other RMN platforms. In the US the likes of Walmart now offer a CTV offering via The Trade Desk and Kroger have partnered with Roku to do the same.
First party data clearly plays a huge role in this equation as it potentially offers the key to finely targeting people that have a genuine propensity to buy your brand. What gets less talked about, is the complexity of going from millions of customer ID's to a matched audience that can be physically targeted through scalable adtech. Not only does this require a lot of smarts around clean rooms, privacy, data fusion, different browsers etc, it is also a question of how to genuinely use a variety of different data sets (retailer & manufacturer data but also 2nd and 3rd party) to both enrich and create scalable reach that means fine targeting is purposeful.
So, you might be thinking, 'well it may be huge in the US but the UK doesn't have the same vast audiences and marketing budgets and we may be 2-3 years behind?' Well consider the chart below from Benedict Evans which evidences two things:
1) E-commerce sales in the UK have always surpassed that of the US as % of all retail sales
2) During lockdown, the UK has accelerated yet further with a 1/3 of all sales coming from online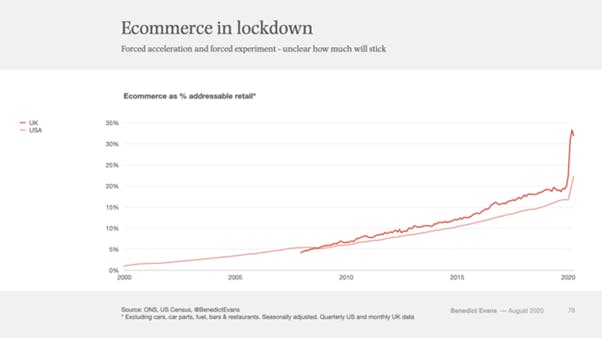 Is there opportunity here for every retailer in the UK? Probably not, but mass reach retailers who reach a high proposition of UK households, yes. In the US interestingly, we have seen entrants from every category and if anything, the challenge is now keeping up with the number of options and determining the real points of difference between each. Whilst it is still a nascent landscape even in the US, the challenge has not been for retailers to win test budgets but more to demonstrate genuine incremental value and get repeat business. The chart below from E-Marketer is pretty telling re the stickiness of US retail media networks: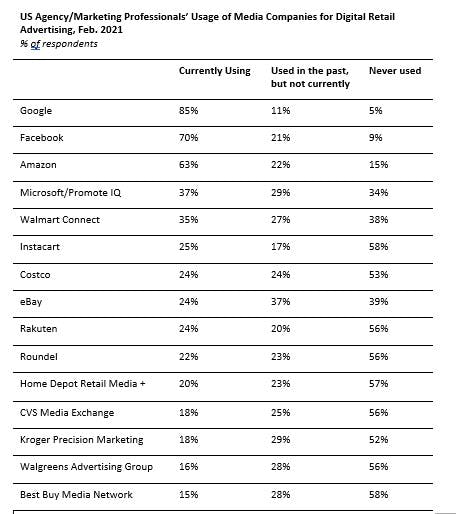 It's even earlier days in the UK but some of these signals are helpful to predict how things will play out. Retailers can generate significant incremental revenue here but to build sustainable ad businesses, just like Facebook or other publishers, early investment into measurement, insight and attribution will be critical. Brands do not have the capacity to work with too many of these retail media networks and more will emerge leveraging their proprietary transactional data insight to build media networks. Two early contenders are Shopify and Uber but the likes of Mastercard and Klarna are other alternatives. Manufacturers will want proof of incremental value vs their other shopper marketing lines & other digital marketing lines.
Some commentators believe unbundling or aggregating the data is the longer-term play, (this has been said many times before but has not played out in broader digital publishing) or that a meta buying layer is needed that helps ensure that the same customer seen across multiple retail media networks can be identified and efficiencies found. These sound safe bets but will take time given we are still very much in the early days. In addition, expect to see technology enable better connectivity between in-store and digital retail media – already we are seeing digital screens programmatically connected, but expect to also see more integrated buying platforms where targeted retail 1st TV, DOOH, social and display can all be managed and traded together. A growing ask will also be an integrated view of how these techniques like instore activation and shopper marketing vs 1st party data programmatic targeting work in harmony with each other and insight that informs how to best optimize the mix between each.
Retail, or perhaps more aptly named commerce media, offers a compelling advertising opportunity with proximity to transaction, (both digital and physical sales), offering the promise of better targeting, better performance and better closed loop measurement. It's also worth an opportunity that is not just for FMCG's but also many other categories.
If you are a retailer or an FMCG however, thoughtful experimentation is the order of the day. Whether retailer or FMCG, be sure you know how you will be measuring success before jumping in and plan for the fact that you will likely need to onboard a variety of different expertise. Running a retail business and running a media business are very different propositions. To be successful in the latter, new skills will be essential, ranging from adtech to digital trading to incrementality measurement through to technical strategy, data architects and science. As with many decisions related to digital transformation, you can choose to outsource to a partner with some credentials or explore how to best build a long term, sustainable proposition by investing up front in the design and ownership of a differentiated proposition with in-house control.
Paul Frampton, (President of CvE) will be writing a column for the MAD//Fest Newsletter regularly throughout the year. Find out more here